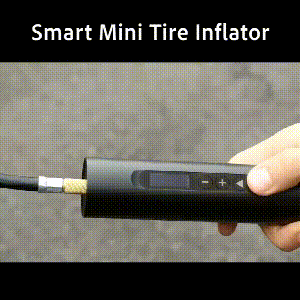 SLEEK
Unlike any tire inflator you've seen before is a sleek and clear shaped cylinder. It is the first tire inflator that got rid of all physical buttons and features a 0.91in, 128*32 resolution OLED display with capacitive touch.
Even when you don't need to inflate your tires, you can connect to them at any time to gauge the tire pressure. The screen shows your current pressure immediately when connected like the picture shows above.
SMART
The built-in microcomputer manages the whole system meticulously.
1. It instantly measures the tire pressure when connected to a tire.
2. It automatically stops when it hits the preset tire pressure.
3. It monitors internal temperature real time and regulates the cooling fan accordingly.
4. High/low voltage alerts, over/under pressure alerts, overheating alert, built-in buzzer and flashing display with words.
The microcomputer does a great job in power management too. The stand-by power consumption is less than 1mA, so the device could sit idle for a whole year after a full charge without being over discharged.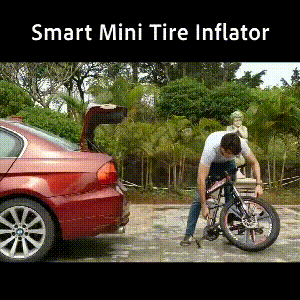 EASY TO USE
Minimalism isn't just a design language shown in the exterior design but a philosophy that sips into very corner of our professional life and very detail of our products. has only 4 touch buttons, one Power key, one Start/Pause key and a pair of +/- keys to set pressure values. It's so simple that you won't even need a manual to operate it.
POWERFUL
Just because is small and cool, both figuratively and literally, doesn't mean it has to compromise in performance. We utilize a top notch high intensity ferromagnet 380 motor that is small in size but fast in operation, 30,000 rpm, and big in power output, 56w to be specific. The whole system produces 18kg of torque, enabling to produce 12bar/1.2Mpa/174psi of air pressure and pump 10-17 Liters of air per minute.
QUIET
All the high manganese steel gears are precisely regulated to realize dynamic equilibrium, and the whole device is very tightly sealed, making it significantly quieter than a regular tire inflator.
SAFE
utilizes high quality lithium iron phosphate battery, which works well under temperature from -20℃ and 75℃/-4℉ and 167℉, is significantly less prone to spontaneous ignition and explosion than other types of battery, has a life of use up to 7 years, and is environment friendly because it contains no heavy metals, rare metals or toxins.
At wheelsmagic we strive to make our customers 100% satisfied with the product they've purchased from us. If you are experiencing any shipping or product issues, and you're feeling frustrated, then please send us an email and our team will assist you right away.
Please fill in your address in all details, otherwise, the package we mail to you will be returned to us.
====================>> RETURN POLICY <<====================
1.Not Happy with Your Order
If you are not happy about your purchase, 7 days from the date of that you received the product in like-new condition with no visible wear and tear, you (buyer) will be the one who is responsible for paying for the shipping costs for returning an item if not covered by our warranty against manufacturer defects and exchange is not due to our error.
Please note: Customers will only be charged once at most for shipping costs (this includes returns); No-restocking to be charged to the consumers for the return of the product. Shipping costs are non-refundable.
Damaged Items or Low Quality
If the product is defective or does not work properly, please kindly let us know. For the fastest resolution, please contact us via support@wheelsmagic.com including a photograph demonstrating the poor quality or the damaged area of the item. The most optimal pictures are on a flat surface, with the tag and error clearly displayed. We'll send you replacements as soon as we confirmed the situation, no need to return the defective ones. We will use this information to help you with your order, and eliminate errors in the future.
====================>> CANCELLATION <<=====================
Cancelling Unshipped-out Orders
If you are canceling your order which has not yet to be shipped out, please kindly contact us via support@wheelsmagic.com. For the fastest resolution, please include your order number. Thanks!
Cancelling Shipped-out Order
If you are canceling orders when your parcel has already been shipped out or on its way to a destination, please contact us and then kindly refuse to accept the parcel since we are not able to call it back at that time. we will refund your payment after deducting shipping costs. A refund will be issued as soon as the parcel begins to return.
====================>> Warranty <<========================
This warranty only covers manufacturing defects and does not cover:
Damage caused by accident
Improper care
Normal wear and tear
Break down of colors and materials due to sun exposure
After-market modifications
No returns/exchanges for products with water exposure will be accepted.
====================>> REFUND POLICY <<====================
If you feel the product that you've purchased does not show the requirements that you initially had in mind, then you do have the option to request a refund.
Here are the circumstances in which refunds will be granted:
You Can Get A Full Refund
If the product you've purchased is completely non-functional.
If you did not receive your product within 90 business days after the date that your order has been placed.
Please Note: Refund will go back to your account in 3-5 business days.
SHIPPING COSTS
You will be responsible for paying for your own shipping costs for returning the item. Shipping costs are non-refundable. If you receive a refund, the cost of return shipping will be deducted from your refund.
If you are shipping an item over $100, you should consider using a trackable shipping service or purchasing shipping insurance. Thank you!

DAMAGED ITEM / LOW QUALITY
For the fastest resolution, please include a photograph demonstrating the poor quality or the damaged area of the item. The most optimal pictures are on a flat surface, with the tag and error clearly displayed.


✈️✈️FREE SHIPPING on orders over $69

The product you purchased will be shipped out in 48~72 hours by Air Parcel Register Shipping Service.
Air Parcel Register Shipping Service: It usually take about 7-12 business days to arrive. We will send the tracking number to you after the order was shipped out.
(Business days are Monday-Friday. Holidays, Saturday and Sunday are not included in shipping days).