The newly improved splatter guard is absolutely indispensable in your kitchen!!
It can prevent food from splashing all over in the microwave oven and ensure the microwave oven is clean.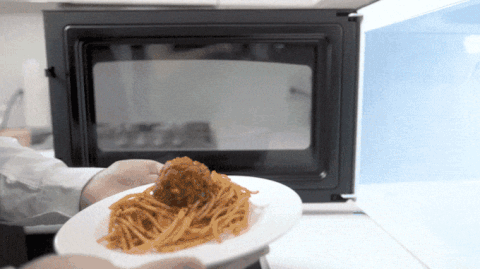 It is famous for the unique features of the following upgrades:
√Microwave-Safe Magnets-More Convenient and Hygienic
√Water Injection Hole Added-Moisten Leftovers
√Silicone Material-No More Burning Fingers
√Collapsible-Save Space
MAIN FEATURES
Splatter Guard
No longer worry about food splashing and soiling the microwave when using the microwave. It eliminate the trouble of usually cleaning the microwave oven.
Collapsible-Save Space
Compared with the traditional hanging splash-proof cover, it adopts foldable design, which can be retracted and folded when not in use. Saving space, easy to store, and more beautiful.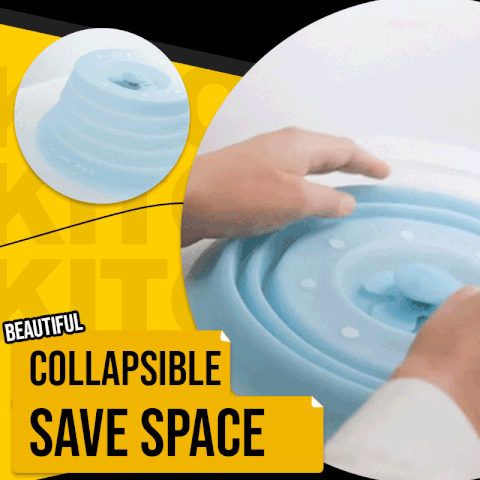 Magnetically Attaches to Your Microwave
It is magnetically fixed on the top of the microwave oven. Just put it on a plate when needed, and hide it when you are done. It is more convenient and hygienic to put or take the dishes in the stove than the traditional splash-proof cover.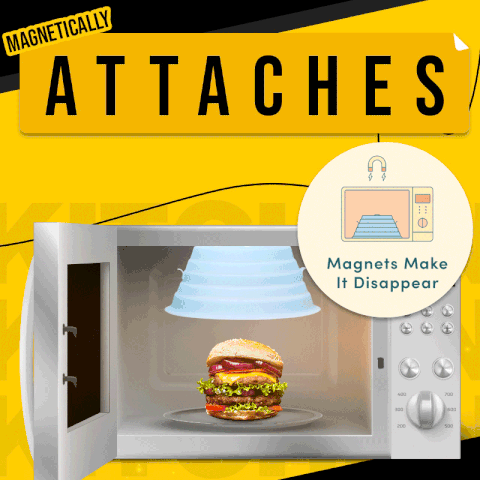 Water Injection Hole Added-Revitalize Your Leftovers
Only small holes are provided on the top of the traditional cover, and the dishes are easily dehydrated and over-dried when heated, which affects the taste.
Our product set a water injection hole, which can ensure that the water does not lose and the leftovers will turn out so moist and tender, making people want to eat again.
Silicone Material-Arbitrarily deform
Unlike the plastic splash guard, you need to use anti-scalding gloves or risk your hands to be scalded.
Our product is made of soft silicone, which is flexible enough and has thermal insulation. This means that you can use it as an anti-scalding glove and avoid burning your fingers.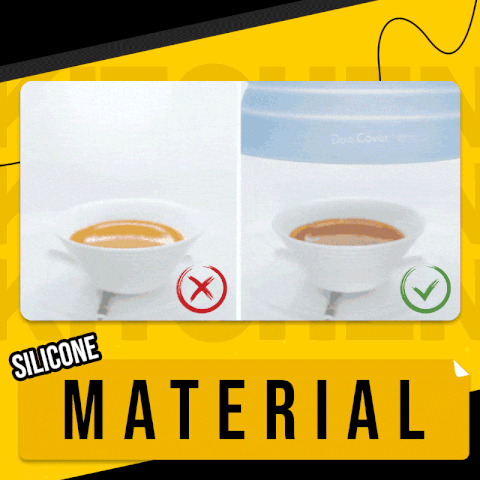 Hermetic Steel-Keep Your Food Warm for Longer
Turn your microwave into a steamer and make delicious dishes in no time. Airtight seals can achieve better heat distribution and keep your food warm for longer.
Easy to Clean
Just place the splatter guard in the dishwasher. Literally. It is almost unbreakable.
SPECIFICATIONS
Material: Silicone+Magnet
Size When Unfold: 28*28*11.5cm/11*11*4.5in
Size When Fold: 28*28*3.5cm/11*11*1.4in
Color: Blue
Package includes: 1×New-Upgrade Microwave Splatter Guard
NOTE
Due to manual measurements, please allow slight measurement deviations.
Due to the difference in light and monitor during shooting, a certain chromatic aberration will be caused.