How you decorate your desserts says a lot about who you are. From creating special occasion cakes to decorating cupcakes with your kids, this DIY Spoon-shaped Chocolate Mold will help you make your toppings a sweet work of art.

🍫 Use these decorating essentials to build on your current skills or learn something new. 🥄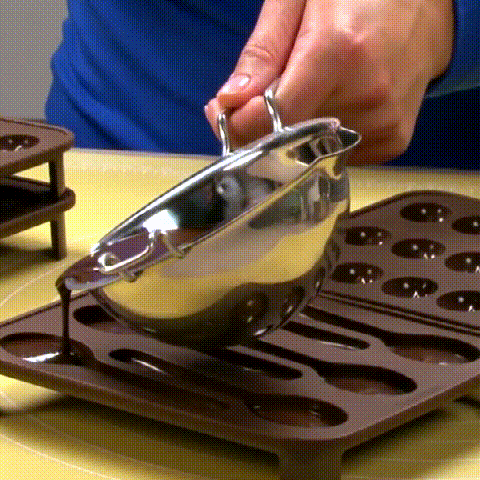 With this chocolate mold, there is no limit to what you can do when you decorate. You can serve warm drinks with an edible dessert spoon made of melted candy. Perfect for use if you are a DIY enthusiast.

More Fun in DIY Making:
It is easy to create perfectly formed, edible candy spoon stirrers when you use the spoon-shaped candy molds. These silicone spoon molds are fantastic for making candy, chocolates, candies, fondant, soaps, frozen yogurt treats, ice cubes with fruit juice and so much more.


Features
🍫Flexible
Molds are well-shaped and flexible silicone material at the bottom enables easy release in nice shape. Each compartment is separate so you can easily push it out from the bottom. Our mold set is made of a rigid but flexible silicone that does not crack or rupture after prolonged freezing. It is easy to pop the spoons-shapes out without leaving any residue.

🍫Non-stick
This flexible silicone mold offers a non-stick surface that allows the sweets to pop right out with a little push from the bottom. The non-stick silicone and independent cube compartment design make it easier to release. The product will bring you tons of delicious options for cake, pudding, candy, jelly, chocolates, iced cocktails, and so on.

🍫Widely Used
Safe for use in the dishwasher, oven, freezer, refrigerator, and microwave. Use it to melt chocolate, bake cookies, cakes, muffins, brownies, cupcakes, and so on. After baking, you can remove the mold and leave it to cool for about 10 minutes before de-molding. The effect is better. Wash with warm soapy water.

🍫Quick and Efficient
You can mold 6 chocolate spoons at once. Each spoon measures 9.5 cm in length. It is easy to pop out and easy to clean. The product is made from non-toxic silicone material, can resist high and low temperatures.

🍫Durable and Compatible to Save Space
Our DIY tool helps reduce waste with reusable technology. The molds are stackable; they will not occupy much of your kitchen space. You can use them again and again for years to come. Molds are well-bounded and could be stacked into the freezer without sticking thereby saving space for other items.

🍫Eco-friendly and Reusable
These molds are reusable and washable, help protect our rivers, marine life, and reduce pollution of disposable plastic. Use them to impress your family and reduce the use of plastic molds. And you can put the trays into your dishwasher after use, easy to clean up.

🍫Wide Range of Temperature Tolerance
Safe to use with high and low temperatures from -30 to +230°C. Our heat resistant silicone baking mold is safe for use in the dishwasher, refrigerator, freezer, oven, and microwave.

Technical Specifications
Material: Silicone
Color: Chocolate
Approx. Size: 21 x 10.5 cm
PACKAGE INCLUDES: 1 x DIY Spoon-shaped Chocolate Mold
At wheelsmagic we strive to make our customers 100% satisfied with the product they've purchased from us. If you are experiencing any shipping or product issues, and you're feeling frustrated, then please send us an email and our team will assist you right away.
Please fill in your address in all details, otherwise, the package we mail to you will be returned to us.
====================>> RETURN POLICY <<====================
1.Not Happy with Your Order
If you are not happy about your purchase, 7 days from the date of that you received the product in like-new condition with no visible wear and tear, you (buyer) will be the one who is responsible for paying for the shipping costs for returning an item if not covered by our warranty against manufacturer defects and exchange is not due to our error.
Please note: Customers will only be charged once at most for shipping costs (this includes returns); No-restocking to be charged to the consumers for the return of the product. Shipping costs are non-refundable.
Damaged Items or Low Quality
If the product is defective or does not work properly, please kindly let us know. For the fastest resolution, please contact us via [email protected]wheelsmagic.com including a photograph demonstrating the poor quality or the damaged area of the item. The most optimal pictures are on a flat surface, with the tag and error clearly displayed. We'll send you replacements as soon as we confirmed the situation, no need to return the defective ones. We will use this information to help you with your order, and eliminate errors in the future.
====================>> CANCELLATION <<=====================
Cancelling Unshipped-out Orders
If you are canceling your order which has not yet to be shipped out, please kindly contact us via [email protected]wheelsmagic.com. For the fastest resolution, please include your order number. Thanks!
Cancelling Shipped-out Order
If you are canceling orders when your parcel has already been shipped out or on its way to a destination, please contact us and then kindly refuse to accept the parcel since we are not able to call it back at that time. we will refund your payment after deducting shipping costs. A refund will be issued as soon as the parcel begins to return.
====================>> Warranty <<========================
This warranty only covers manufacturing defects and does not cover:
Damage caused by accident
Improper care
Normal wear and tear
Break down of colors and materials due to sun exposure
After-market modifications
No returns/exchanges for products with water exposure will be accepted.
====================>> REFUND POLICY <<====================
If you feel the product that you've purchased does not show the requirements that you initially had in mind, then you do have the option to request a refund.
Here are the circumstances in which refunds will be granted:
You Can Get A Full Refund
If the product you've purchased is completely non-functional.
If you did not receive your product within 90 business days after the date that your order has been placed.
Please Note: Refund will go back to your account in 3-5 business days.
SHIPPING COSTS
You will be responsible for paying for your own shipping costs for returning the item. Shipping costs are non-refundable. If you receive a refund, the cost of return shipping will be deducted from your refund.
If you are shipping an item over $100, you should consider using a trackable shipping service or purchasing shipping insurance. Thank you!

DAMAGED ITEM / LOW QUALITY
For the fastest resolution, please include a photograph demonstrating the poor quality or the damaged area of the item. The most optimal pictures are on a flat surface, with the tag and error clearly displayed.


✈️✈️FREE SHIPPING on orders over $69

The product you purchased will be shipped out in 48~72 hours by Air Parcel Register Shipping Service.
Air Parcel Register Shipping Service: It usually take about 7-12 business days to arrive. We will send the tracking number to you after the order was shipped out.
(Business days are Monday-Friday. Holidays, Saturday and Sunday are not included in shipping days).